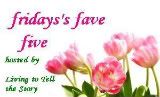 Here are 5 things about this week:
1) The Frog & Toad Game I wrote about in
this post
WAS SO FUN!!
I want to encourage EVERYONE with an elementary school kiddo to check Frog & Toad Are Friends out from the library and then print off
this fun board game
to play afterwards. :)
2) I last mentioned that I would be seeing my midwife on April 11, 2012 to figure out why my hormones are so out of whack. My thyroid tests came back fine, my hemoglobin and iron are fine, my vitamin D is low (MWHAHAAAHAAA, I live in Wisconsin, DUH!!) and my diagnosis is
Premenstrual Dysphoric Disorder (PMDD)
. I hope to write my experience up some day soon.
My current treatment is a low dose of estrogen/progesterone. The intent is to streamline my hormones for 6 weeks and then hopefully I will be better. The first 6 days WERE BLISSFUL. Now I am entering the part of my cycle where things typically become unbearable and I CAN CERTAINLY tell I am there but it seems the hardest edges have been knocked off. If you knew the intensity of what I am battling you would know that this knocked off edge is not very much! But I have hope and I am not done researching, yet!
If you would like to read another blogger talk about her experience with hormonal imbalance, I just discovered
The Daily Weaving. Click here
to go to part one of seven posts on her experience. Be warned, if you are looking for answers to help yourself, or if you have a loved one struggling, you will not find many. HOWEVER, it is sometimes nice to read thoughts from your own head on a blog belonging to someone you don't know because they TOO are dealing with the same things!
3) We have lambs all over the place here!
:) We raise Icelandic sheep and when they give birth they go off to a quiet place (far wooded corner of our acreage!) and deliver. A couple of days later the moms will bring the babes close enough for us to SEE them.
Around the week to a week and a half stage the moms start to wander back into the yard (yep, I really mean our FRONT yard) where we can watch them play. We only have about 4 families that brave so far. I CAN'T WAIT when they are all formed back into their flock again and all 15+ lambs are in the front yard playing! :)
4) Another quirky Icelandic fact we are observing lately is that Icelandic Sheep SHED! :) This was bred into the sheep to make the breed easier to manage. (What's not easier than a sheep that does not need to be shorn?) It does leave for some very INTERESTING looking sheep though!
NO! We did not take our Ram to the groomer's to receive a LION CUT!
5) Last Sunday, April 15, 2012 we said goodbye to the Mennonite Church that our family and another started up back in November of 2006.
It was a bit melancholy but very good. My husband is a start up sort of guy and this group had reached the point where he could keep the small group coasting but was out of his skill and gift set to grow it through it's next season. They have a great group, lots of dedication and a great foundation. They are currently looking for a pastor (PRAYERS WOULD BE APPRECIATED) who is geared up to meet them where they are and nurture them into their next season. We are to step out for 2 years while the congregation finds a pastor and melds with that person. This would be so much easier if there were other Mennonite churches near us. The next closest church is an 80 mile drive into the neighboring state and then there are two in our state that are a bit farther away than that. We have a plan and I am praying hard for God to help me see HIS GOOD instead of only seeing the *NON-MENNONITE'ness* of those local churches we hope to visit. I would love to fall in love with a church where our children can be nurtured and where I can actually attend ADULT Sunday School while we wait for these 2 years to pass but we will pray, explore, watch, wait and act as God leads us.
Well, those are just a few of the items on my plate this past week (*snort*)!
On Sunday our 4H group is headed to a cave to spelunking! We are SO EXCITED!! Well, maybe less excited that I will have all 3 kids, in a dark cave without my husband or a grandparent.....but.... with a tour guide I would expect it to not be so bad. (PRAYING)
What are your Fave 5 for this week?
Click here
if you'd like to visit the other fine bloggers participating this week.