I am unfortunately very driven by the weather.
If it is cloudy I have to fight very hard to find motivation and energy.
(No, I don't think I have Seasonal Affective Disorder.. I think the sunshine just cheers me and energizes me. Sunlamps have done nothing for me in the past.)
It has been so cloudy and so cold.
Spring has been torture for me. We will have a nice day or two and then the temps will plummet again.
Here is the forecast for me for this week.

*SIGH*
Today we are experiencing beautiful sunny, breezy weather. The thermometer on my very hot, sunny porch read 68 at 11:30 when we did math. Dreamy. The screen door is open. I have gotten a TON of work done. I can actually SEE in my home without any lights turned on. It is wonderful. I feel alive.
In my email box I received this warning: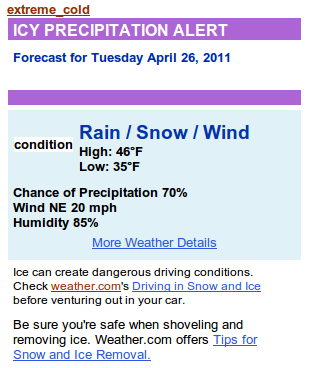 *SIGH*
I always giggle when I get "Extreme Cold Weather" alerts in April. It makes me wonder what I will be receiving next January when we hit our sub-zero spells.
I told the kids they need to play outside ALL DAY (minus our school). Yesterday I was so tired, so unmotivated and nearly depressed in my gloomy feelings. I accomplished so little all weekend since it was so cool and cloudy.
Looking at the forecast I think I need to get extra done today so that tomorrow and Wednesday when the "It's cold and cloudy" blahs hit.
I AM SO READY for Spring to stop teasing us. Did Mother Nature NOT teach her that it is not polite to tease?
*SIGH*
I keep hearing that Summer in deed WILL COME even if it feels like it is never going to happen.
What did that little engine say?
I think I can, I think I can, I think I can, I think I can....