October 12th marked my very first Story Time Lady Experience at our local library. (You can read more about this
HERE
.)
The previous librarian had sketched out several topics before she left. When I looked at them I realized that I really needed to stick with most of these topics, after all the landscape only demonstrates the changing of leaf colors once a year!
So, before ALL the fall colors were on the ground I decided that October 12th we would read about the changing of seasons from summer into fall and then move into Autumn leaves.
I read 5 books and despite writing them down I can not seem to find my list. I logged into the library account and it is not set up to view past reading history. *sigh* So, below are four books that I THINK I read. I don't remember reading TWO Lois Ehlert books but know I like both of these books so I'll list them here anyway.
Book List
(click the link to view book on Amazon)
After we read our books we went to the small child's table to work on our craft.
We made these super easy and quick bookmarks.
So, here is where you get to learn more about me. I HAVE A THING FOR CONTACT PAPER. My family is thankful we do not have a real laminating machine because if we did I would blow all our food budget on laminating supplies!! :) Second, I HATE, HATE, HATE thick bookmarks. They don't stay in very well and they leave gaps in the binding of the book if they are left for too long. *DISLIKE* This bookmark is not much thicker than two sheets of paper. Cardstock is actually thicker than these book marks! *LOVE* Third, fall leaves are my most favorite part of the year. I love capturing them to admire later in the year (like when snow covers everything in sight).
Do It Yourself: How TO Make a Leaf Bookmark
1: If I were at home with my own kiddos I would have us go on a leaf hunt. However, since I was prepping this craft for preschoolers I did this step on my own the day before. I went for a walk and searched for very small leaves. The bookmarks were pre-cut to 8.5" x 2.25" so the leaves needed to not only be pretty but be pretty small.
2: I precut the book mark pieces. I cut a piece of contact paper and a piece of colored copy paper to the 8.5" x 2.25" size. Why did I cut it to THAT size?? Umm, because it looked okay and because I had several scraps that could be cut to that size without wasting much. :) Waste not, want not!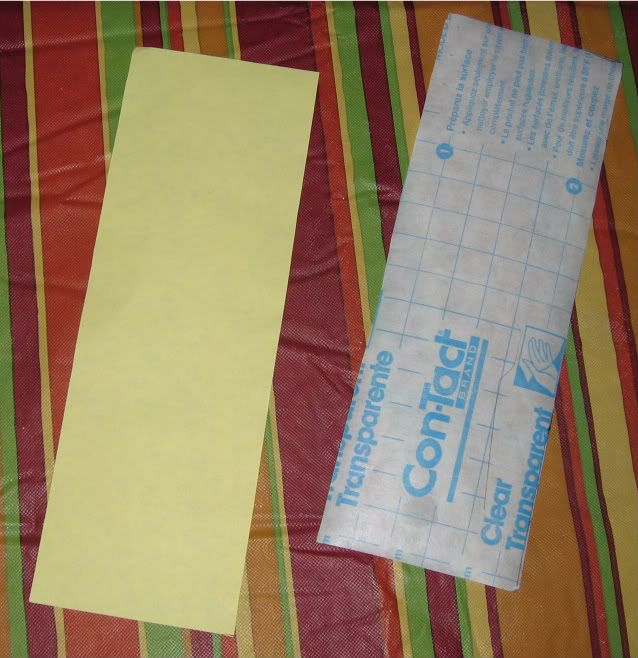 3: Now here's the step that says "I love to be kind and I love easy, crafts with little hassle." I FOLDED A SMALL corner down on each piece of contact paper so that the moms would be able to more quickly pull the paper backing off! :) *wink*
4: I typed up the words "Happy Autumn 2011" in a small, easy to read font and printed it out. I actually used the table function in a word processing program for this. I made a table big enough to fit 20 of these and then created one cell that was exactly what I wanted, copied and pasted it to all the other cells. Quick easy. *Poof* Prep work was done.
5:
AT STORY TIME assembly was super easy
.
a) The children (and their adult) were given a piece of contact paper, a piece of colored paper, a "Happy Autumn" tag and they were able to choose 2-4 leaves.
b) The moms pulled off the paper backing and put the contact paper on the table with the sticky side facing up.
c) The children (though confused) were guided to put the leaves pretty side DOWN and the "Happy Autumn" tag with the words DOWN onto the sticky.
d) They then put the colored paper on top of the sticky contact paper and pressed it together.
e) Those who needed to then trimmed up the sides if they were put together crooked. It's so nice to just fix the edges up with a scissor instead of stressing out over the two layers not going together perfectly! (*easy*)
There ya have it. Super easy. Super Pretty. Super Fast Leaf Craft.
Coming soon
Week 2=Harvest Apples & Pumpkins
(Where I show how crazy I really am and use paint with a hand print craft!)