That is what my blog is asking me.
We've been busy around here. First it was the tomato harvest (I have pictures to blog someday). We had apples to harvest and some pears to can too.
Then the second week of September found me teaching my first (of many) botany class to homeschoolers. I have 6 sixth-eighth graders and 18 fourth and fifth graders. I was not fully prepared for 18 and what that actually LOOKS LIKE in reality. My cap was 12 with permission to go a bit above that but 18!!! YIKES! I will manage but it will be a energy filled class for sure. I will continue to teach them once a month for 65 minutes per group through the school year.
September 21st was greeted with my father-in-law coming to visit for 13 days. He broke his leg in May and has been laid up ever since. We thought about making the 12 hour drive down to pick him up and then again to take him home but then realized a round trip plane ticket was actually less expensive. So, we flew him up.
My father-in-law's visit was nice. He took the kids to play at a few parks in the area, he watched them while I cooked and tried to get my thermal curtains sewed. While he was here doing child care I was able to get our school room up and running and we even did a week of school. Otto suckered him into playing lots of games and teaching him how to play checkers and Abram frequently stole his crutches so he "could practice walking with a bum leg." Gracie loved to play with Papa as long as I was out of site. She is such a mommy's girl that once I came into view she refused to hug, tickle or play with Papa..... silly girl.
While my father-in-law was here I cooked up a storm. Hubby had taken a whole stretch off from work leaving him with 19 days off. He fenced in most of our 10 acres during that time with woven wire fence so that we can expand our sheep flock. It was hard work.... cutting paths through a thick wooded lot, carrying rolls of fencing that weighed 150 pounds a piece UP HILLS!! He deserved some good food and both he and my father-in-law praised the good cooking but then grumbled at the weight they were putting on. :)
September 26 marked our first day of school and WOW is it crazy this year. Last year Gracie wanted nothing to do with it and my famous words were "Abram... GO PLAY!!" THIS YEAR.... those two littles are super excited about school and I am having my own transition period of how to keep them occupied while I try to teach Otto his second grade work. Thankfully Otto's concentration has improved and his frustration with being interrupted is generally better. Whew! There are so many little activities that I can give the youngers but they only want to do them ONCE! Ugg! With time we will get things down but right now school is an intense, highly educational circus! :)
Well, I need to get back to life now. Must figure out something to fix for lunch and then I need to tend to a stock pot full of wind-blown apples that are trying to go bad. Should have dealt with them a week ago when Hubby brought them home but I've been a wee bit busy. :)
Life is good, even when it seems stressful.
Oh, speaking of stressful. If you could keep my father-in-law in your thoughts and prayers. Friday September 28 we received an early morning phone call telling him that his house had burned to the ground while he was here. It looks like a theft/arson case and he is meeting with insurance folks, police & fire chiefs this week. He has a shed that is half garage and half hangout place where he can live while he figures out what to do next but nearly all that he had is now gone.
And if you are not dizzy yet from this blog post I am going to leave you with a photo I just took of our beautiful trees starting to change colors. When my father-in-law arrived August 21 there were maybe 4 trees that were turning yellow. Now I would say that about half of our trees have turned and the maples are showing their beautiful reds. :)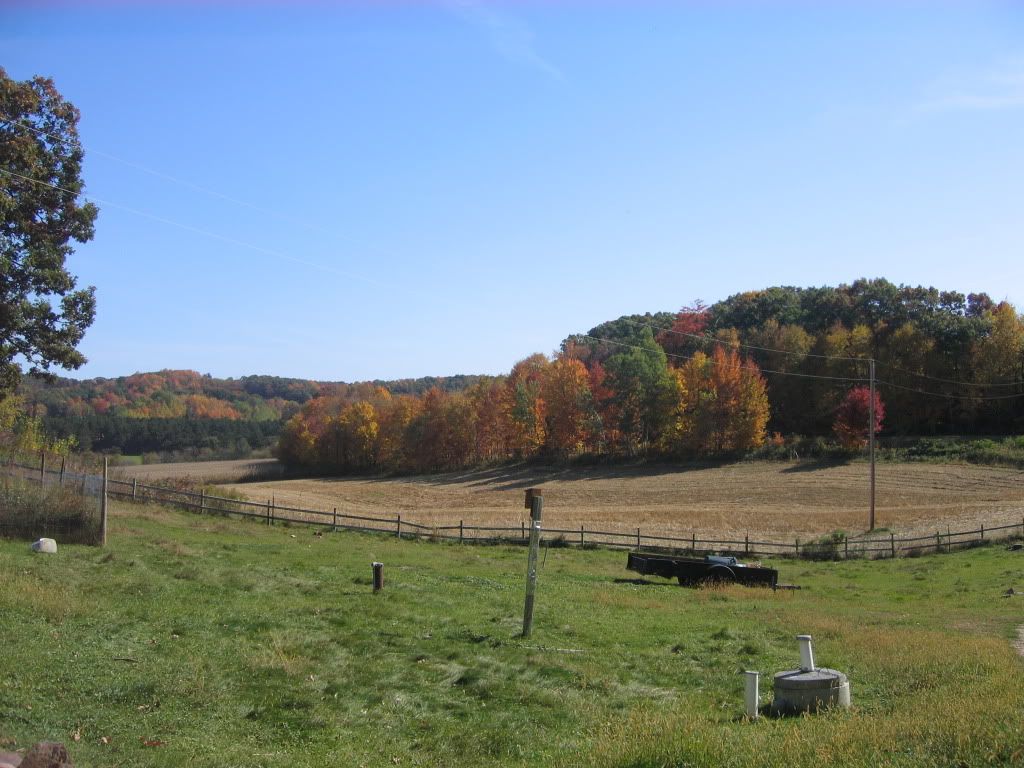 Happy Autumn.