The end of summer is always crazy for us with activities and harvest.
This year on top of the harvest I added in a Thrift Sale, the recovery of that Thrift Sale and at the same time as harvest we moved our school room upstairs to a very full office space.
I am GETTING THERE. I am typing this from my new Hubby's desk in the schoolroom. I have moved nearly all the furniture at least once, laid carpet my mother-in-law gave us years ago, cut that carpet to size and spliced it so it runs wall to wall. I moved furniture back and then began moving our school books and cabinet contents into our room. I *think* I only have science, preschool and this year's books to move into a space. I also need to move my filing cabinet contents back in and thought I might try to purge while I do so.
I am so close I can taste it. I am so thrilled and can't wait until I am done if for no other reason than the fact that everything will have it's own place and I can clamp down on children picking up and moving anything they get the whim to pick up and move. I am normally a very organized person and tend not to lose things but this whole dishelveled process has included kids who see new things they can play with and carry off. I find myself looking for items that I KNOW were RIGHT HERE. I know people in my life who do this all the time and I must say losing things about drives me over the edge!
We are so close I *think* by Wednesday of this coming week I might be able to have our *official* FIRST DAY OF SCHOOL.
Tuesday is co-op day. We are not actually members but I am teaching a botany course and they have allowed my kiddos to attend classes while I teach. YAY!
Here are some pictures of the current state.
I will link back here when I get my final pictures taken and blogged.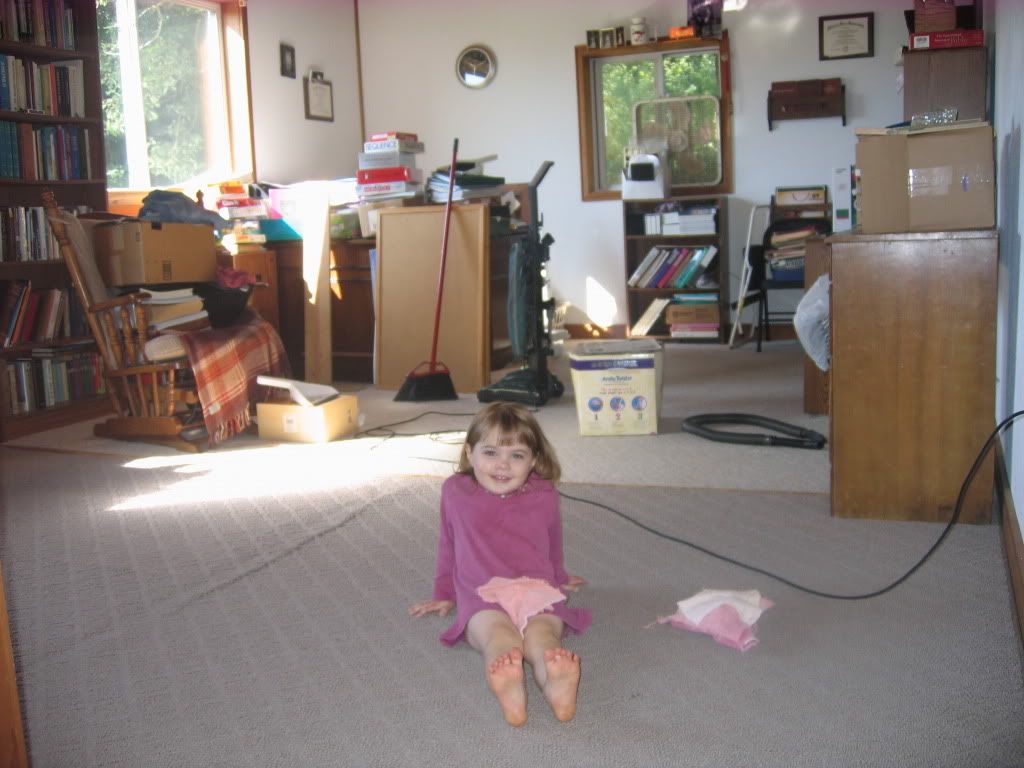 This was the view seen from the entrance to our new school room. This mess is actually BETTER than it was. I was very PROUD of how clean this was! It's already better. :) Gracie is sitting on the new carpet. Underneath this new carpet are peel-&-(not so much)-stick tiles that were going to be the catalyst landing me in a padded room. The carpet will be SO MUCH warmer on our toes this winter too. :)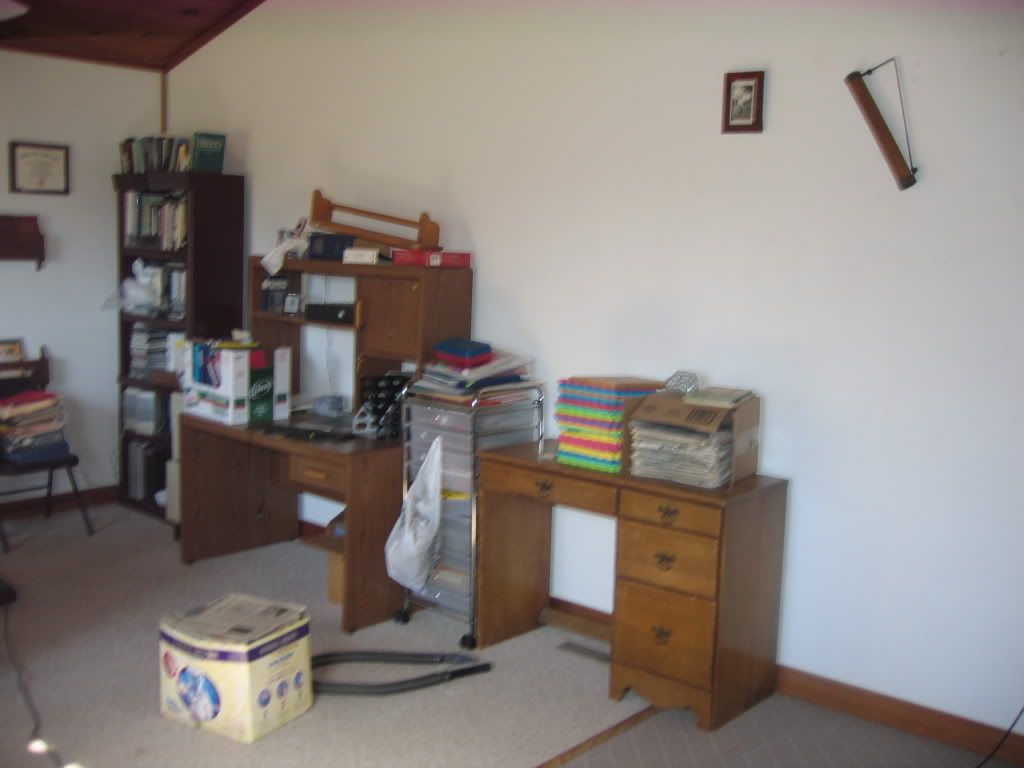 Making a circle around the room. This wall is to the right when you walk in. I will be placing cork boards and perhaps a white board on the wall to the right of the small desk. From the left: The tall bookcase is filled with theology books that must remain. I have obtained the bottom shelf for my school books and have put speakers for our cd player on another shelf, to the right of that is my white school file cabinet, to the right of that is the huge computer desk that *I* used in highschool and college, then our "workboxes" (aka: storage drawers) and the small student desk.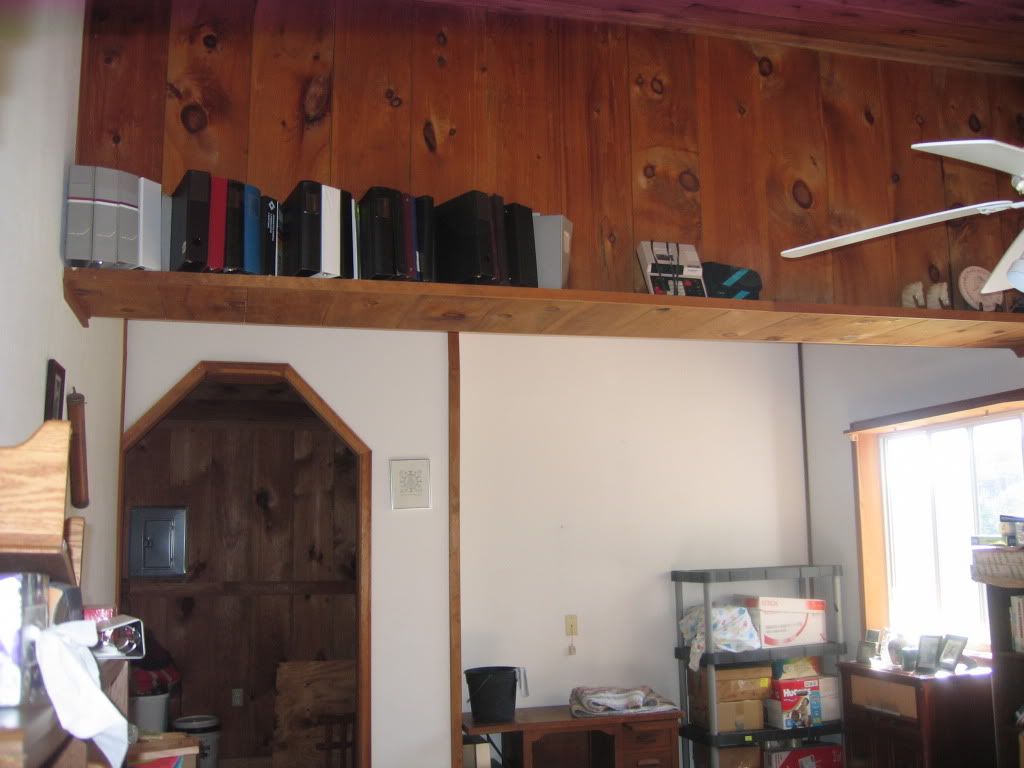 At this time I don't have a better picture of the back wall but when I sit at the desk (HUBBY'S DESK) this is what I see. The shelves up high have baffled us since we moved here. They are mostly for decorations but I had all these 3 ring binders that we obtained for free and I needed a place to store them. Here they are. Very visible to ME, not in the line of sight to others and although I need the ladder to reach them I at least know where they are. In the middle of that shelf is a 10 key calculator, an old camera and to the right are meaningful decorations that mostly pertain to Hubby's Seminary Graduation.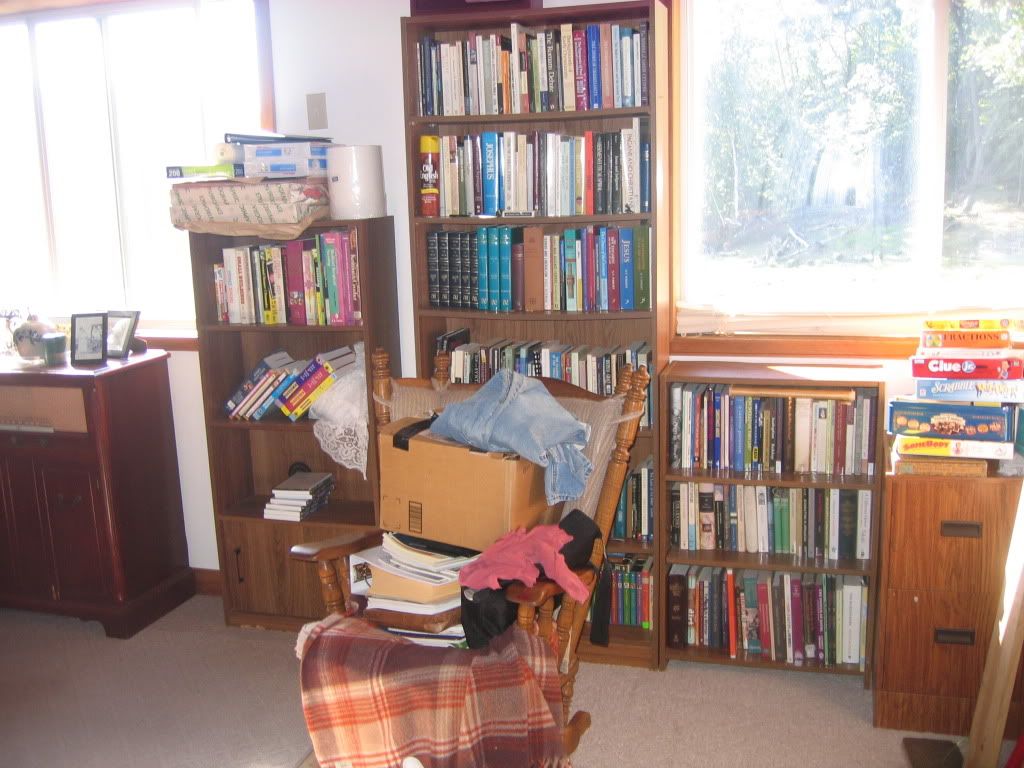 So, this area is unfinished. The right finds a file cabinet. I think I might put preschool stuff in here? The two book cases (super tall and very short) are more theology books that cannot be moved. The other bookcase I am storing my Scope & Sequence printouts and books, music books, foreign countries materials and the top holds my oversized papers (construction paper, 11x17 paper, paper rolls, etc.). On the far left is the new place for an old antique radio that Hubby's uncle refinished when he was in highschool. It stores black and white family photos.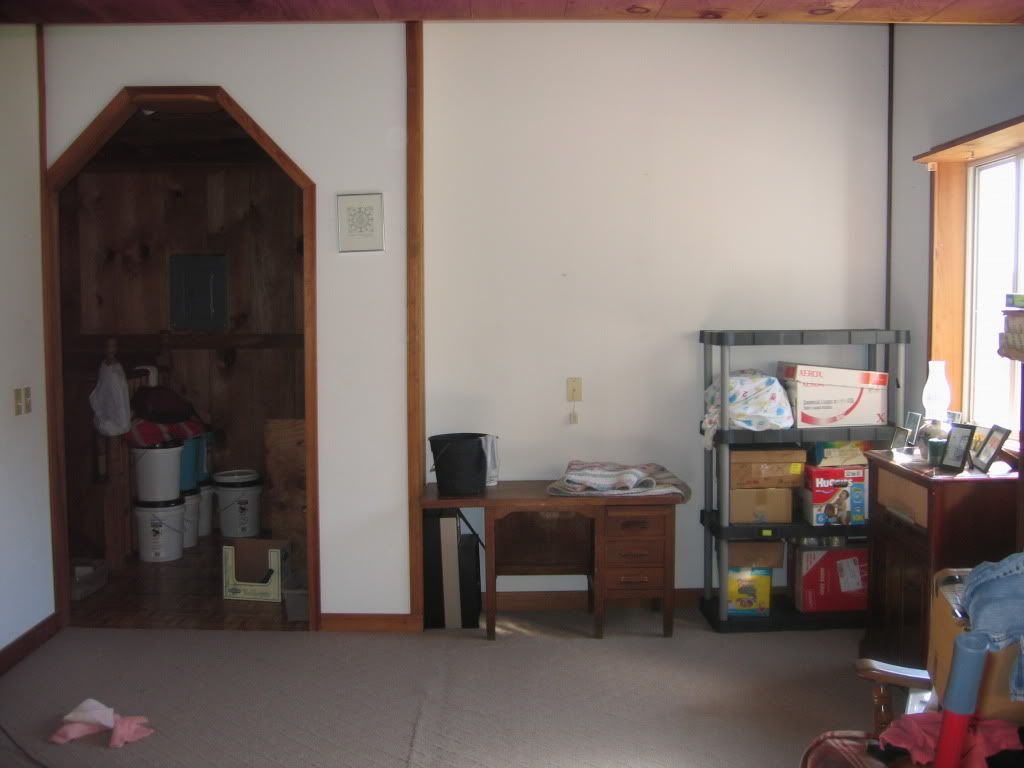 Outside that door is a 4.5 foot tall kitchen cabinet we obtained. It used to hold books and now sits empty waiting for the perfect thing to be held within. To the right of the door is a student desk where the school computer will go. Under that desk to the left are storage boxes that can hang on the wall. Hubby was very excited about these free finds but I am unsure if I want to use any of them so for now they rest there out of the way. The large shelving unit to the right now holds board games on the right and the shelves below are items that are either listed on Amazon or Ebay or items that NEED TO BE listed. To be honest most of it is items that NEED to be listed! Once we settle in and once I get the thermal shades made for this room I will begin listing items again.... right now, I'm a wee bit busy!
There were times during this process where I COULD NOT walk through this room at all. I am so happy to be sitting at the school desk upstairs typing in a nearly completed room. :)
What does your schoolroom look like?
This post was linked to the Not Back-to-School Blog Hop. Click HERE to view more posts about school rooms.